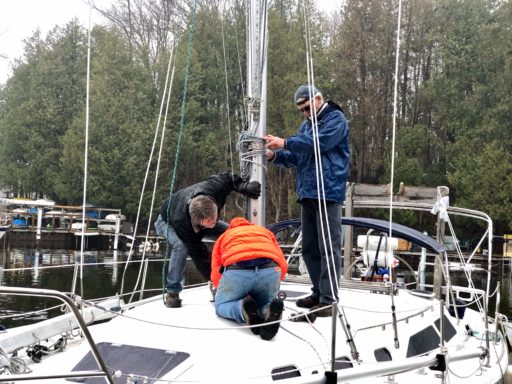 "In boatyards all around the Great Lakes, days are filled with the sounds of sailors getting their boats ready for launch. There is a ritual that seems unvaried as the years spin by. Waxing, hauling bags of sails and kit, the slat of lines against masts as sails are mounted again, the rattle of chain as anchors are being positioned or checked, etc. And of course, the hum of conversation.
Following a thorough checklist as you prepare to launch your boat after a winter layup can help ensure you don't miss anything important. Here is a rather comprehensive checklist that hopefully covers most if not all of the items you need to address. And, when the hard work is done and you are ready to splash, take a moment to reflect on your hard work again this spring and maybe enjoy with a cold beer in the company of some good friends and fellow sailors. " Source – www.great-lakes-sailing.com
Great-lakes-sailing.com offers a Free Resources page https://www.great-lakes-sailing.com/resources.html, where you will find a useful and fairly comprehensive Spring Commissioning Checklist https://www.great-lakes-sailing.com/support-files/spring_commissioning_checklist.pdf
Great-lakes-sailing.com also produces a quarterly e-newsletter called "Rhumb Line" with a variety of useful articles related to sailing as well as updates on ports on the Great Lakes. Back issues are available at https://www.great-lakes-sailing.com/Rhumb_Line-backissues.html
Copyright and TM 2011 – 2016 Great-Lakes-Sailing.com
All Rights Reserved.